Campus Gardens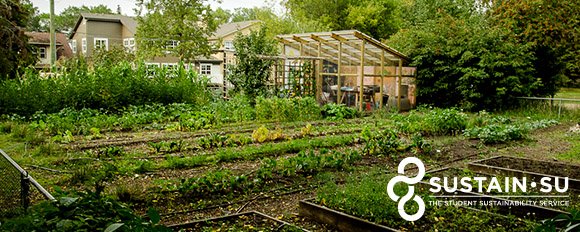 Location: The garden is located in East Campus Village, across from Tamarack House on the Northside of 89th Avenue and between 110th and 111th Street.
About
The Campus Community Garden is a completely volunteer-run shared garden plot. In addition to creating an exciting nature-driven recreational experience for the campus community our mandate includes:
Providing the campus community with food that is locally and sustainably grown. Our volunteers are invited to take a portion of our harvest!
Promoting urban agriculture by teaching campus community members sustainable gardening practices.
Contributing food security on campus by providing a portion of our harvest to the Campus Food Bank.
Fostering a strong and vibrant community of neighbourhood gardeners.
Sign up for our newsletter to receive updates on upcoming events, workshops and involvement opportunities.
Interested in Volunteering?
Students, staff, and community members are all welcome to participate in this garden project. Garden volunteers are responsible for prepping, planting, maintaining and harvesting the garden. If you would like to volunteer with us, please drop in during garden hours!
The level of experience in gardening ranges from first-time planters to dedicated gardeners. To accommodate the diverse knowledge levels of our gardeners and experiential learning opportunities from seasoned gardeners, volunteer training is ongoing.
Sustain SU's Campus Gardens Coordinator provides support and knowledge to the volunteers. The Gardens Coordinator also organizes several educational sessions over the summer that provide information on gardening techniques and management.
Sustain SU Community Garden is closed for the year.
History
Sustain SU (then named ECOS) initiated the Campus Community Garden in collaboration with APIRG during the spring of 2003. This organic, shared-plot garden uses as many sustainable agricultural practices as possible to showcase environmentally-friendly gardening techniques.
For three years, between 2003 and 2005, the 244 square meter garden was shared between ECOS and the Garneau community. In 2006 ECOS' community garden merged with the Garneau plots to become one large cooperative garden (we do not have individual plots). In 2008 the garden expanded 4 meters to the north and now measures more than 300 square meters.
The funds needed to create and plant the garden in 2003 originally came from the Alberta Public Interest Research Group (APIRG) and a Student Extracurricular Activity Grant (SEA) given by the Dean of Students. Since this time, the garden has been funded through Sustain SU's Operating budget, with additional funding provided by APIRG.
Naturalization Site
Reclaiming urban spaces that have been inundated with concrete and non-native species, the Naturalization Project demonstrates ecological design principles that can reduce the 'footprint' of the University of Alberta.
The site is situated in the courtyard east of the Education Building cafeteria.
The naturalization project reclaims urban spaces with native plant species.
Naturalization Project Mandate
We will work to create a four-season retreat on campus that will:
Demonstrate the ecological, social, and economic benefits of increasing biodiversity and incorporating native species in urban landscapes
Demonstrate a landscape technique that conserves energy and water
Provide a place for community members to experience a hands-on learning environment
Frequently Asked Questions
What does naturalization mean?
Naturalization, in the horticultural sense, means creating areas that grow plants native to the region.
What are native plants?
Native plants are those that were present historically in an area within a naturally established range and were not introduced from foreign habitats by humans.
Why are native plant species beneficial?
Using native species has the benefit of reducing the number of resources required to maintain a healthy plant bed.
They are adapted to living here. The key factor that makes an indigenous plant bed more self-sustained is the simple fact that the plants are native to Alberta. Alberta's long, cold winter season and short growing season - with periods of hot, dry weather- are not ideal conditions for many ornamental plants. Albertan plants, though, have lived here for thousands of generations and are quite hardy; they have evolved to flower in the short window of summer we experience here, they tend to re-seed themselves each year or adopt a perennial life cycle and they are usually quite tolerant of cold, frost and moisture stress.

They require fewer resources. Native plants need much less water, fertilizer and attention to survive, as they are used to the unique Albertan environment. These reductions mean less time and money must be spent on maintenance, and the landscaped area is more sustainable.

They are more resilient to Albertan pests. Therefore, if you choose hardy species that are appropriate for the conditions in your naturalized bed, you will not need to use pesticides to maintain your bed. As an added benefit, once your native species are thriving, they will choke out many weeds, meaning that herbicides will not be necessary and the "beloved" activity of weeding won't be as necessary.

They require less maintenance. The reduced number of resources necessary to sustain an indigenous bed means that much of the bed's maintenance requirements and the associated costs are also reduced, in addition to lessening the ecological footprint you are creating in upkeep.
Due, in part, to the reasons listed above, there is a growing movement in North America for people to incorporate native plants into their own yards. Sustain SU, along with other campus groups, is in the process of making the University an active member of this movement. We are interested in creating naturalized plant beds on campus to show the many benefits of reintegrating natural plant and animal communities into our urban surroundings.
Social
Contact
Phone
780-492-1648
Hours
Monday to Friday
Best available by appointment.
Address
Sustain SU Office
0-81 Student Life Central desk Lower Level
Students' Union Building
University of Alberta
8900 - 114 Street NW
Edmonton, AB
T6G 2J7